WHAT THE SONG IS ABOUT>
A girl is in a destructive relationship and loves it.
WHAT THE VIDEO IS ABOUT>
Our disembodied consciousness floats into a commercial airplane and we meet Stewardess Britney.  She is on the phone calling someone who gives a shit.  Unlike all of the stewardesses in our experience she does not look like Jim J. Bullock. 


She, instead, is dressed like an extra from "The Fifth Element".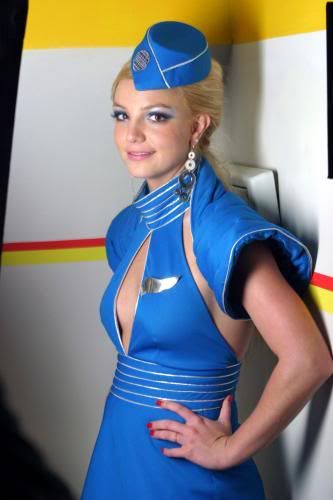 Also, we have been introduced to Nude Angel Glitter Britney who is the all powerful God of this world.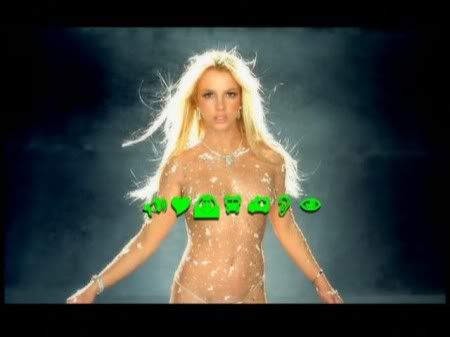 Stewardess Britney spills Champagne onto Baby Face Nelson's lap and then proceeds to give him a handjob.  This actually happened to us except, as we mentioned before, she looked like Jim J. Bullock. 


The handjob is followed by a safety demonstration where we learn you can use Britney's breasts as floatation devices.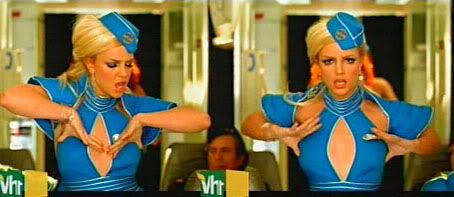 We are now introduced to a Fat Guy about to get laid (or "Things that happen only in Music Videos"). Time to join the Mile High Club Fatty! This is all the devious working of Nude Angel Glitter Britney, God of Sex in Strange Places. But, WAIT, you didn't think Britney would nail a Fat Guy did you? Who wants to see that? He is actually Brad Pitt's stand-in wearing a fat suit (just like every fat guy, everywhere). And then, LAP DANCE which, as always, is a great tool when stealing a guy's wallet. Some might think she stole his wallet but we think he gave it up, willingly. She then uses the cash in the same way any professional lap dancer would> To buy a completely different outfit, haircolor, and identity.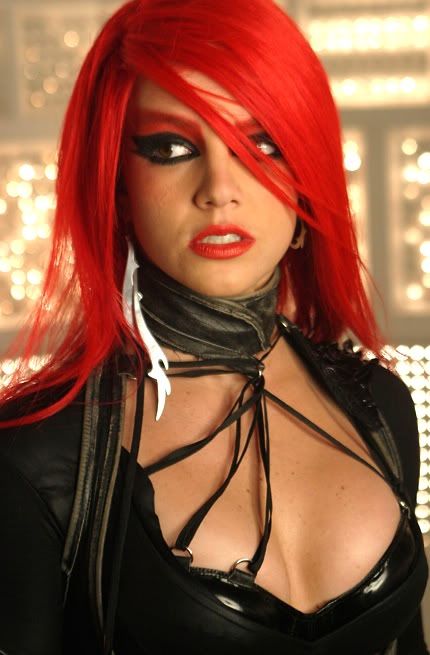 Now living in Paris, Flame Brit takes Mr. Clean on a motorcycle suicide run with the sole intent of shaking up the French (who hasn't? It's just a part of being young). After a death defying CG leap from the motorcycle, Flame Brit uses her Bitch-a-rang to blow up the entire front section of "Toxic Industries" which is World Famous for being blatantly obvious about how evil and destructive they are as a corporation. Flame Brit then walks into the heat of the explosion without concern because her hair is red and red-headed chicks are impervious to fire (go ahead and prove us wrong). She uses a Justin Timberlake CD to open a secret door which leads to a vile of green liquid. This liquid was made to be stolen since it can be accessed using a Justin Timberlake CD and isn't protected by lasers and automated machine guns.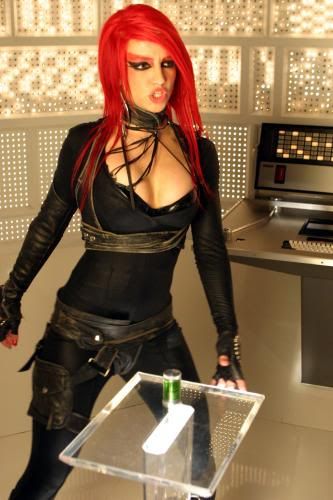 Flame Brit just waltzes in and takes it while, up above her, Tom Cruise shits his pants.  She goes to leave and Whaddayaknow, there ARE lasers!  What will she do now??  DANCE, BITCHES, DANCE. 
After a radical display of using the Robot Dance to escape death, Flame Brit goes into hiding (as anyone who has ever committed the Robot Dance must do).  She transforms into Goth Britney who has the uncanny superhero ability to use toilet plungers to climb buildings and the superhuman power of using bullet-time to look wicked sexy. 



This wicked sexy moment is used to perplex Brad Pitt's stand-in.  He is just baffled… long enough for Goth Brit to get all rough on his ass.  Since he is identical in every way to Brad Pitt she is able to easily lift him off the bed and onto the floor with one hand.  She uses the green liquid to turn him into Matthew McConaughey (which Brad Pitt look-a-likes everywhere consider their worst nightmare) and leaps out the window to her death, maybe… We can hope.  Ah, FUCKSTICKS!  This was all inside of Stewardess Britney's head. 
Thanks for wasting my time with your meaningless dream, Dorothy, now get me a Scotch on the rocks and a handjob.